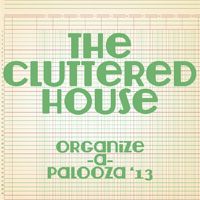 Well, it has been 4 weeks of re-organizational bliss! And now it is over. I have three nicely organized and more functional spaces in which to work. Kitchen was good, Linen/Hall closets were good, my office?
Well, it turned out GREAT! So great that I pretty much want to spend all my time in it!
There is still work to be done (mostly filing. Ugh), but I can actually come in here and work and craft and be creative. I'm so excited!
The rest of this post will mostly be pictures and explanations. Enjoy! (Before pics are
HERE
).
Panorama of the Office
Closet:
(you may notice that I did not photograph one side of the closet. It is not because I am hiding all my clutter there, but because it houses stuff for Diesel's work that I am not supposed to show)

Top Shelf: briefcases, scrapbooking bag, extra baskets & bins, photo DVDs (and a nightlight that needs repair)
Second shelf: Diesel's R/C stuff
Third Shelf: books for work and blogging, magazines (his & hers), clear bins of batteries, writing implements and lots of miscellaneous kids craft supplies
Fourth (center) shelf: typical "desk" stuff-- staplers, tape, pens, my P-Touch label maker (that ran out of tape midway through this project, forcing me to HAND WRITE labels; the horror!), box of mailing supplies
Fifth shelf: file storage bins, box for paper to reuse in the printer
Sixth (center of pic) shelf: File boxes filled with project supplies
Bottom shelf: more future project supplies and a box of stuff to file
Close up of one of the file bins. I use it for storing our paper, labels, manila folders, etc. vertically.
Makes it much easier to access this way.
Close up of my file boxes: one filled with notepads, binders, etc. The other two are project supplies.

Tall Bookcase:
Top two shelves are photo albums/scrapbooks with room to grow.
And "placeholder" chotchkies until I can figure out what I want to put there!
First shelf is boxes of scrapbooking supplies
Second shelf is more supplies, scrapbooking reference materials, and the 12x12
boxes are where I store memory stuff for each of the boys and for the family.
I think you know what that is! :)
I skipped photographing the smaller bookcase, because I talked about it
last week
.
Scrapbooking Cabinet (and annex)
This is the scrapbooking cabinet Diesel built me (out of scrap material left over from a job) when we lived in the Original Cluttered House. It was built to fit into a tiny corner of our bedroom, and the cart on the bottom rolls out, providing a small extra work space for me. It is pretty rad.
On the wall are my yard sticks and cutting mat. I found that going vertical was the best way to store them.
Top shelf: Project Life stuff I got last Christmas, but have yet to start, Xyron sticker/laminator/magnet maker, small Xyron sticker maker and some 8.5x11 paper & letter punch outs
Second shelf: Embellishments, markers, humongo tape runner, more embellishments and my Crop-o-Dile Big Bite
Cutting tools, more paper storage and an empty 12x12 box
Paper. Probably wouldn't hurt to go through this and purge some paper.
The scrapbooking cabinet "annex." has individual, take it with you sized boxes in it. This is where I store scrapbooking projects that I am working on/will be working on.
Supplies for scrapbooking Little Man's 4th birthday party photos. Which I will get to soon. Right after I finish his second birthday and then start on his 3rd. Good thing his birthday is in 4 months and he'll be five. I'm not behind, right?
Desk Area
In an effort to keep the desk as clear as possible, I moved some storage up onto the side of
the scrapbook cabinet, and hung a little collage of family photos up above it.
Stuff that will be on the wall above my desk soon. Perpetual calendar, magnet board, inspirational quotes, etc.
Cord central. I used Cable Drops to secure the cords for the various electronic machines I will need on my desk, that way it is much easier to move stuff around as I need it. I have each cord labelled (you can kind of see my Cricut label) so I can easily identify what is what.
Diesel built me this chair to match my desk. He's awesome.
File cabinet. Full of files. The caddy on top is where I put notebooks/research at the end of each day to keep my desk clear of piles. I love piles, but they are counter productive.
Propped up against the wall is a black & white print of the Empire State Building that I haven't quite decided if I am going to hang up in my office or not. And the baby gate I use to keep the children out of my office.
So that is the end of the tour. My last thought I am going to leave you with is this: once upon a not so distant time, a friend and I were in stitches over a website where the site owner had made custom covers for her dogs' kennels. We were DYING at the ridiculousness of it-- they were even embroidered with each dog's name. But now that I actually have to share my office with an ugly old dog kennel, I'm starting to think that lady was onto something...

Luckily, my office mate is cuter than his kennel.
Yes. His kennel is labelled. Little Man insisted that we label it back when we lived at the
Original Cluttered House, back when I was making mail sorters for everyone in the family.
And also, all that black & electric lime green on my scrapbooking storage has GOT TO GO! I purchased them on super sale a LONG time ago, and now they don't fit my "vision" for the office. Since they are still in great shape, I think I might have some box recovering projects in my future!
So how did your organization projects go this week? I'd love to hear about them (and see them?)