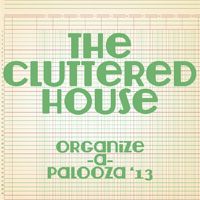 This week is going to be hectic, so I have decided that this week Organize-a-palooza will consist of an "easy" organizing task. (You guys like easy, right?).
By easy, I mean not really easy at all. But maybe quick? Er... um... Okay. it isn't THAT easy, but I figure it shouldn't take more than an hour or so to reorganize each linen and/or hall closet. I'm hoping that they can be evening projects.
Week 2: Linen and/or Hall Closets
My linen and hall closets aren't really so disorganized as much as they are under-utilized and useless! You see, we have four linen/hall-type closets, however they are really useless spaces. We've added some shelving to a couple of the closets, but otherwise, they just have these HUGE, unusable shelves. The kind where you just pile stuff up and can never really find anything.
Or, if you are me, you have shoved completely non-unpacked boxes in there, shut the door and pretended that they didn't exist. I have done
some
work on the cabinets, but there is ALWAYS room for improvement.
So here is what I'm dealing with:
Downstairs linen closet:

Random assortment of stuff with no other home

Top shelf is a MESS of stuff, and for some reason
I put all the diapering supplies on the bottom shelf,
which is a pain in the you-know-what. But at least
the beach towels have prime real estate in the
middle of the closet.
Game closet:

This is a cool little closet under our stairs.
I love this closet.
The problem with it is the space in front of it. :/
Downstairs hall closet:

We added some bracket shelves in this closet.
It was just one big gaping hole, basically.
Air mattresses, sheets and workout gear. TOTALLY makes sense.
Upstairs linen closet:

Pretty much the only thing I did in this closet was
wrestle contact paper onto the shelves
Non-unpacked box & random Costco sized stuff

This is a non-unpacked box that has been in here since June

Basket of crap
Anyways, that is what I'm working on this week. How are your closets doing?
Oh and you know how I said we have a bumper crop of citrus? I wasn't lying! Here are all the mandarins, tangerines, lemons and oranges we have on our counter:
Fun fact: The Green Lantern LOVES citrus!
Aaaand, here is our lemon tree (shot from inside, because it was cold outside today):
Yes, that is a legless lawn flamingo.
His name is Ficky Featherstone and he belongs to Little Man
This week, I'll also (hopefully) be posting on our foray into solar heaters. We are going through an unusual cold snap. Like frost on my lawn in the morning cold. I live in So. Cal!!! 34 degrees at 7:30 am isn't normal and our house is poorly insulated and has a broken 65 year old gas heater. Good times!